When Bill McKibben publishes his debut comic cli-fi caper novel with a "resistance" theme,
the knives will come out from the rightwing climate denialist attack dogs who will say the novel is a waste of paper and the that the cross-country book promotion PR tour using fossil-fuel guzzling jet airplanes is hypocritical for a climate activist who calls for universities to divest in their investments in fossil-fuel companies.
Come November
, the knives will come out. From
The National Review
to
The Daily Caller
to News Max to
The College Fix
to Breitbart and
Drudge
, and dozens of other rightwing websites and blogs, and they will all label McKibben as another example of an elitist VIP jetsetting hypocrite wasting precious fossil fuel for
his PR tour to "sell" his liberal, progressive values, just as these same rightwing sites attack Leoonardo DiCaprio and Al Gore as wealthy hypocritical jokes.
Sad, that it has come to this: a country divided over important issues.
It wasn't always this way. But in 2017, that's they way it is. Publication date for the novel is November 7th. On that day, the rightwing attacks will begin, calling the novel this and that and
attacking Bill personally for his hypocritical wasteful lifestyle as a VIP elitist Harvard-educated slimeball
. who calls for divestments on the one hand while
flying first-class across the country
for his book tour on aviation-fuel guzzling commercial jets.
https://www.youtube.com/watch?v=tWQMnMhDFlM
===============================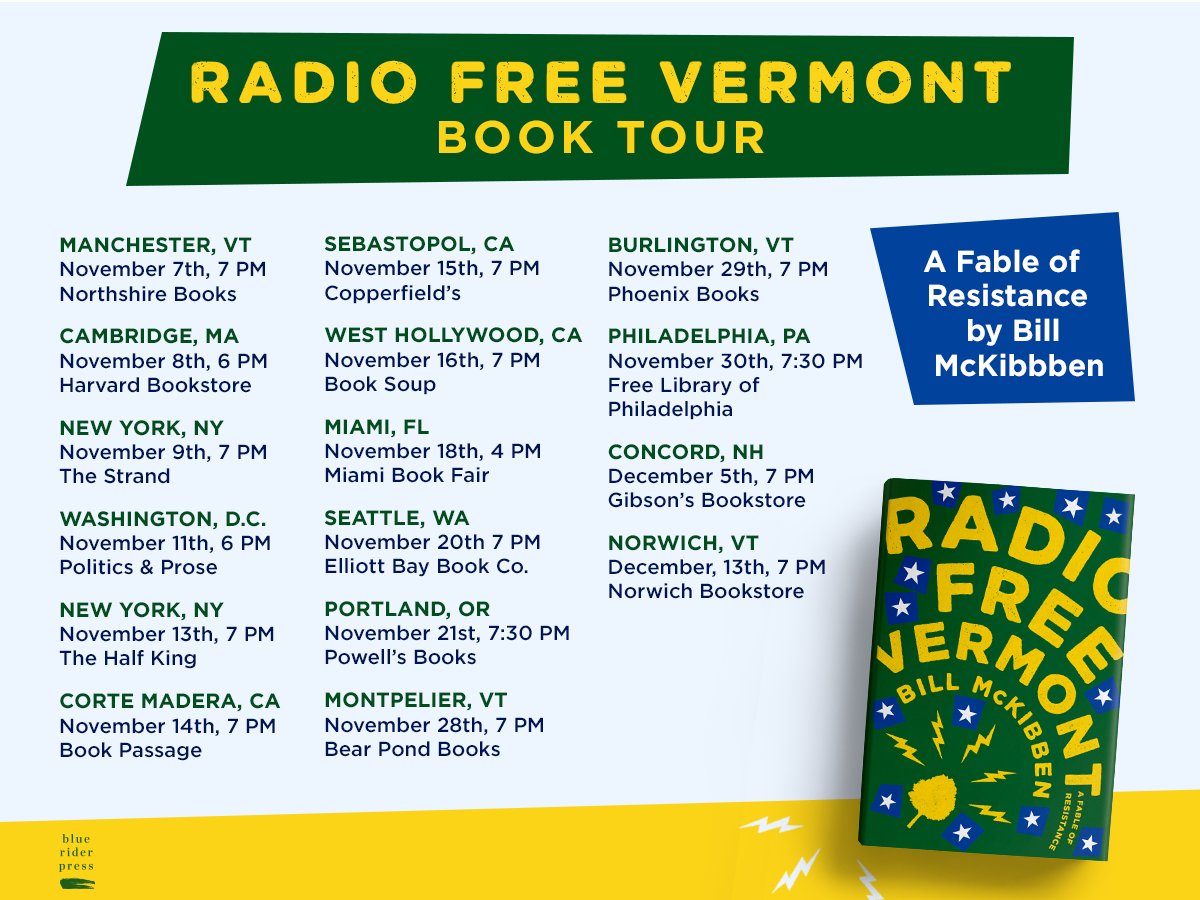 November 14

Flies West to California
November 18

Flies back East to Florida
November 20

Flies back West to Seattle
November 22,

Flies back East to Vermont
===============================
The novel itself will be lauded by reviewers on the left and in the center, and it will be met with rave reviews in the New York Times, the Washington Post, The Los Angeles Times, The Guardian and the Boston Globe.
But not in The National Review or The Daily Caller or News Max or The College Fix or Breitbart or Drudge, and dozens of other rightwing websites and blogs.
The battle will be joined by climate denialists worldwide.
The fireworks won't be a pretty picture.
https://www.youtube.com/watch?v=OHtCK83sb-4
https://www.thecollegefix.com/post/25010/
=======================
In the meantime, ''RADIO FREE VERMONT'' has gotten a very good review at The Texas Observer, by Steven G. Gellman, a professor in Texas. And The Library Journal recently interviewed McKibben about the novel and here are some of the things he said to Ms. Neal Wyatt:
"I wrote parts of the novel over many years, always for fun. But this year it came into sharp focus for me, and it was fun to be able to fight back in this way. One of the things that has marked [2017] for me is the sense that the [current] president is always in one's head — it turns out that an underappreciated virtue of all former presidents is that you could forget about them for days at a time. No such luck now. So, along with helping organize big climate marches in Washington D.C. and trying to keep the USA in the Paris Agreement, I found it an exuberant escape to imagine more creative forms of resistance. I don't think we should probably secede from the Union, but boy do I
think we should organize to stand up for the common good.''
What does McKibben hope the novel will do for readers?
''Well, I hope it makes them laugh, and then I hope it sticks in their minds. I think that resistance to injustice is crucial at the moment — not everyone needs to go off to jail (though I can tell you it's not the end of the world if the occasion arises). But we do need to stand up for each other, and we can think of peaceful but creative (and highly annoying) ways to do it!
I also hope [my novel] reminds [readers] that rural America is not just the land between the coasts, and also that even in resistance, a certain kind of civility and humility go a long way. Oh, and I hope it gets them to search out their best local breweries.''
Is there a second comic novel follow-up in him and will it be published in the next few years, perhaps in 2020 or so?
''I sure hope so. There are days when I think all I'll ever do for the rest of my life is write more op-eds about climate change, more speeches about carbon dioxide, and more tweets. I suppose I should confess that this hasn't entirely cured me of my bad habit of writing depressing nonfiction.
I'm in the middle of a long, dark book that will coincide with the 30th anniversary of The End of Nature.
But I do have a couple more characters that are speaking to me for a second novel.''