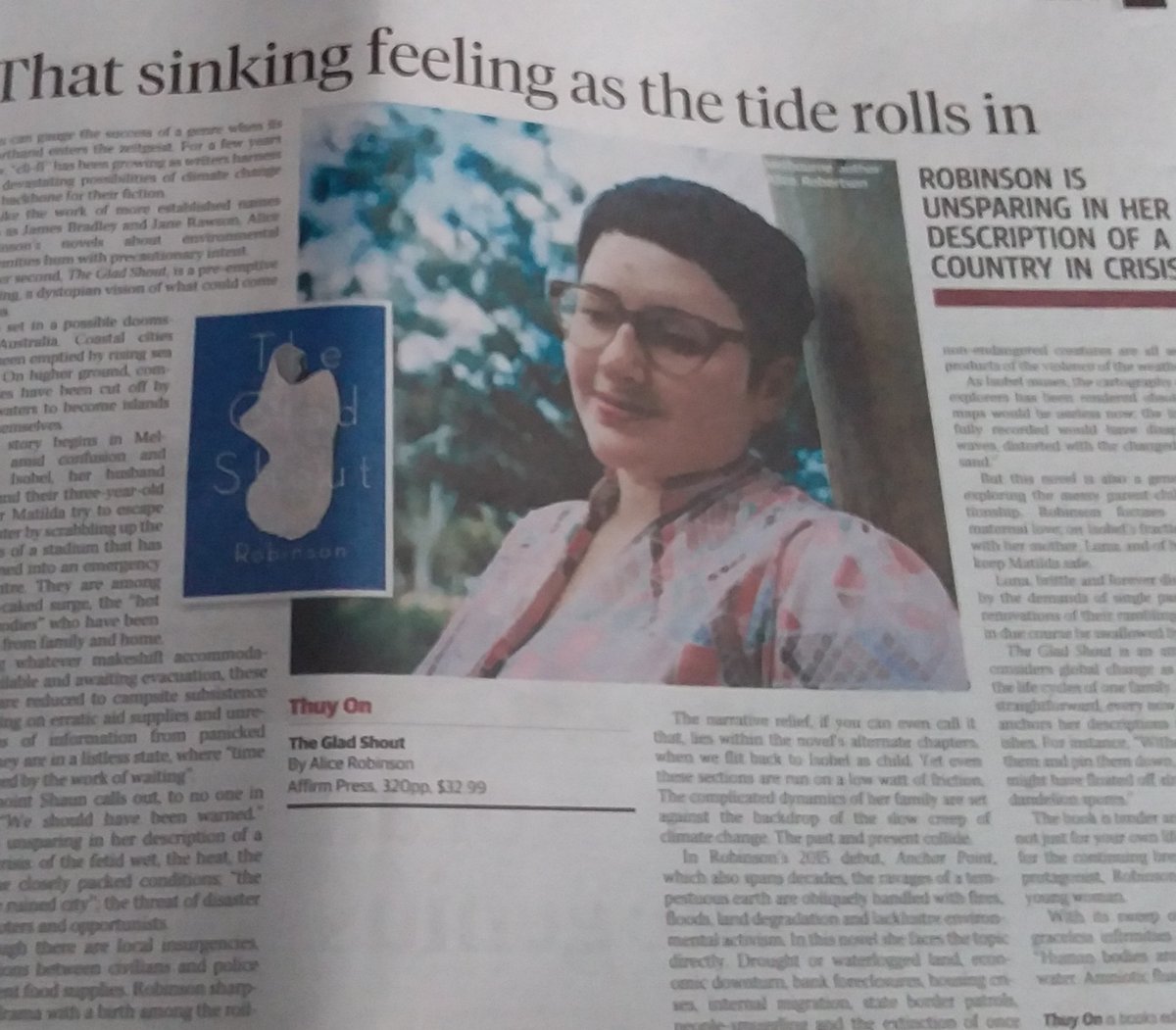 ''That sinking feeling as the tide rolls in''
Melbourne author Alice Robinson
[excerpts] = [

roll cursor over blacked-out parts to read them, too

.]
.
By Book Reviewer
Ms. THUY ON
9 MARCH 2019 / [200 words]
In
THE AUSTRALIAN
newspaper
You can gauge the success of a genre when its shorthand enters the
zeitgeist
. For a few years now,
"cli-fi"
has been growing as writers harness the devastating possibilities of climate change as a backbone for their fiction.
Like the [''cli-fi''] work of more established Australian novelists such as James Bradley and Jane Rawson, Alice Robinson's novels about environmental ­extremities hum with precautionary intent.
Her second novel,
''The Glad Shout,''
is
a pre-emptive warning, a dystopian vision of what could come to pass.
It's set in a possible doomsday Australia. Coastal cities have been emptied by rising sea levels. On higher ground, communities have been cut off by flood waters to become islands unto themselves.
The story begins in Melbourne amid confusion and ­tumult.
Isobel, her husband Shaun and their three-year-old daughter Matilda try to escape rising water by scrabbling up the bleachers of a stadium that has been turned into an emergency relief centre. They are among the mud-caked surge, the "hot press of bodies" who have been separated from family and home.
Seeking whatever makeshift accommodation is available and awaiting evacuation, these survivors are reduced to campsite subsistence living, relying on erratic aid supplies and unreliable drips of information from panicked ­officials. They are in a listless state, where "time is now shaped by the work of waiting".
At one point Shaun calls out, to no one in particular, "We should have been warned."
Robinson is unsparing in her description of a country in crisis: of the fetid wet, the heat, the humidity; the closely packed conditions; "the stench of the ruined city"; the threat of disaster profiteers, looters and opportunists.
Soon enough there are local insurgencies, with altercations between civilians and police over insufficient food supplies. Robinson sharpens the melodrama with a birth among the roiling crowds.
The narrative relief, if you can even call it that, lies within the novel's alternate chapters, when we flit back to Isobel as child. Yet even these sections are run on a low watt of friction. The complicated dynamics of her family are set against the backdrop of the slow creep of ­climate change. The past and present collide.
In Robinson's 2015 debut novel, ''Anchor Point,'' which also spans decades, the ravages of a tempestuous earth are obliquely handled with fires, floods, land degradation and lacklustre environmental activism. In this novel she faces the topic directly. Drought or waterlogged land, economic downturn, bank foreclosures, housing crises, internal migration, state border patrols, people-smuggling and the extinction of once non-endangered creatures are all seen as by-products of the violence of the weather.
As Isobel muses, the cartography of the early explorers has been rendered obsolete. "Those maps would be useless now; the lines so carefully recorded would have disappeared into waves, distorted with the changed shape of the sand."
But this novel is also a generational saga, exploring the messy parent-child-sibling relationship. Robinson focuses on desperate ­maternal love; on Isobel's fractious relationship with her mother, Luna; and of her own desire to keep Matilda safe.
Luna, brittle and forever distracted, is bowed by the demands of single parenthood and the renovations of their rambling house, which will in due course be swallowed by seawater.
The Glad Shout is an ambitious novel that considers global change as witnessed through the life cycles of one family.
Though the prose is straightforward, every now and then the author anchors her descriptions with imagistic flourishes. For instance,
"Without the house to hold them and pin them down, she [Isobel] fears they might have floated off already in the storm, like dandelion spores."
The book is tender and brutal in its advocacy not just for your own life, but far more precious, for the continuing breath of your child
.
In its protagonist, Robinson has shaped a resilient young woman.
With its sweep of births, deaths and the graceless infirmities of age, we are ­reminded: "Human bodies are almost entirely made of water. Amniotic fluid. Tears. Blood."
========================================
The Glad Shout
By Alice Robinson.
Affirm Press,
320pp, A
$33 Australian Dollars
======================================
ADDED BONUS: text by AR
In Alice Robinson's new book

The Glad Shout

, she shines a light on the frightening realities of climate change, transporting readers to an eerily recognisable near-future Australia in crisis. The novel is also a deeply moving homage to motherhood, told through protagonist Isobel's relationships with her grandmother, her mother, and her own daughter.

Here, Alice reflects on four stories that forego the dominant representation of the beatific new mother, to instead capture the bold – and often uncomfortable – truths of motherhood.
'Five-Dollar Family' in

Like A House on Fire

by Cate Kennedy
I was given Kennedy's short fiction collection
Like A House on Fire
two weeks after having my first baby. Here's how I introduced the collection on my blog then:
What will knock the wind out of you in the first few weeks of motherhood is how time-consuming caring for a new baby is… the amount of slow, sedentary, quiet work that goes into simply nourishing this tiny person.
Kennedy's book, remarkably, cut through the fog. I cherished it. Particularly the story 'Five-Dollar Family', which portrays a new mother's experience in hospital immediately after birth. Kennedy writes, 'Let them poke and probe and pump her – she couldn't care less. It's like this big loose body, slack and sore, belongs to someone else…The person she'd been before the birth, in fact, seems like a dopey, thick headed version of who she's become now.' Here was my first inkling of evidence I was desperate to glean: that motherhood blasts apart everything that has come before it, that the work ahead does not just entail raising a baby, but groping toward whatever being a mother means, as well.
Lullabye
by Leila Slimani
Lullabye
, which earned the Prix Goncourt, France's most prestigious literary prize, has been marketed as a thriller for the horrifying crime underpinning the narrative (no spoiler: it's revealed in the first sentence). But I was most captivated by Slimani's depictions of ordinary parenthood. She writes of the mother in her story, 'She didn't realise the magnitude of the task she had taken on. With two children, everything became more complicated…They're eating me alive, she would think'. I wouldn't have related to this depiction before children, but I feel such empathy for it now. The prevalence of complicated maternal feelings – and the fact that they are usually considered taboo to voice – chill and compel me far more than any bloodshed.
Beside the Sea
by Veronique Olmi
I recommend this exceptional French novella to everyone. A mother takes her two sons to the seaside to kill them (again, this isn't a spoiler). Put like this, the narrative sounds extreme. But my strength of feeling for this book comes from the realisation that this single mother is acting from a place of desperate love for her children. Limited as she is in her world view, with no support, no money, no employment and no prospects, her back is to the wall. When she hatches her terrible plan, she is using the few tools at her disposal. We might not endorse them, but the novella convinces me: given her character and circumstances, what choice does she have?
The End We Start From
by Megan Hunter
A woman gives birth as waters rise in an imagined future London. Soon she is forced to evacuate with her newborn. Hunter's prose is poetic and pared back, but the emotional resonance of this account of birth and early parenthood is powerful and accurate. Hunter writes, 'Z opens his eyes a little more every day. I am constantly aware of the complex process of breath: how the heart has to keep beating, to bring oxygen to the blood…It seems that any moment it could stop.' As civilisation collapses around her, this mother is both engaged in a fight for survival, and also cocooned in the all-consuming bubble of new parenthood. That tussle – between the political and the personal, the public and domestic, between being a woman and being a mother – seems to me to be at the heart of this novel, and at the heart of motherhood as well.