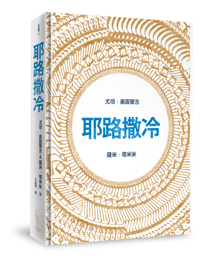 When the Chinese-language edition of the popular Israeli cuisine cookbook "Jerusalem" was recently published in Taiwan, Israel's trade envoy to the island ​ nation Asher Yarden held a press conference in Taipei for the launch and charmed ​Taiwanese ​ reporters by playing cook for the day​,​ accompanied​, of course,​ by his wife Tamar.
Written by ​two popular ​ UK-based Israeli ​celebrity ​ chefs Yotam Ottolenghi and Sami Tamimi, the lavishly-produced book about Israeli dishes has become a bestseller in Britain and North America, with glowing profiles in the
New York Times
and elsewhere.
What caught media attention in Taiwan was that
Jerusalem: A Cookbook
with a collection of over 100 recipes reflecting the appetizing flavors of the Holy City, was written by two Israeli men who grew up in different cultures inside Israel — Ottolenghi in the Jewish western portion and Tamimi in the Arab eastern portion — and​ who ​ later met and became friends and business partners in London.
In Taiwan, the large -format hardback sells for the equivalent of US$30 and features a cover with the four Chinese characters standing for the four sounds of "Jerusalem" (耶 路​ ​撒​ ​ 冷) inscribed front and center. The Taiwanese publisher​,​
Emily Chuang, told reporters at the press conference that she visited Jerusalem in 2013, got ​to ​ the know the food​ there​, loved it, and decided to publish the ​ book once she found a translator back in Taiwan.
"Israel has delicious food, such as hummus and pita bread, but these dishes are not very well known to many Taiwanese," Chuang said at the press conference. She said that she hoped the cookbook, already immensely popular in the West, among Jews and non-Jews, would help to introduce Israeli food and culture to ​some of Taiwan's 25 million people​.
So what did Ambassador Yarden and his wife make for the launch party?
​"​Shakshuka​"​ and ​"​tabbouleh,"​ of course.
S​hakshuka​ is ​ a dish of eggs poached in a savory sauce of tomatoes, chili peppers and onions​,​ ​while "tabbouleh" ​is ​ a Middle Eastern salad comprised of herbs, mint leaves and tomatoes, served with lemon juice and olive oil.
They are both easy to make at home, Tamar Yarden ​told reporters in Taipei.
Asher Yarden ​also ​said he hoped the ​cook ​book would help promote Israeli culture in Taiwan.
"It's my pleasure to share my thoughts and feelings about this lavishly produced cookbook​," Yarden told said. "
​
"I have already encountered the book in two languages with which I am well familiar — Hebrew, my native tongue, and English — but in a way, this translation, in Mandarin, is not strange to me; that's because this book tells the story of my hometown, Jerusalem, where I was born, raised and lived most of my life. In this regard, even though it's written in a language I do not know, I have more than just a vague idea on what it stands for. It tells the story in a very unique and special way — through at least four of our five senses: sight, taste, smell and touch (and, the truth of the matter, maybe we can also add hearing, as I am sure that once eating the delicious foods that are in this book, people will be making sounds of enjoyment).​"
​"​An important task of ours, here at the Israel Economic and Cultural Office in Taipei is to bring the people of Israel and Taiwan closer​." he added. "​One of the best ways to reach this goal is to know more about each other.​"
"The cookbook translated into Chinese now will surely help make Taiwanese people to become more familiar with Israel, Israelis, and, in particular, we, the people of Jerusalem​," he said. " Not only can one read about Jerusalem in this cookbook, but one can also taste it."